We are fully compliant with licensing requirements via SOCAN through our partnership with Streemlion.
If you are interested in having your music featured, please submit here.
We also accept prose and poetry at The CHILLFILTR Review, where select submissions will be featured (audio book style) on our radio show.
---
Full Schedule (all times are in PST)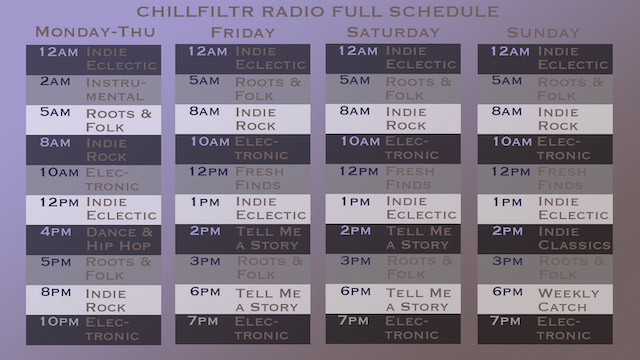 Weekend Programming (in PST)
Fresh Finds: Friday, Saturday, and Sunday at 12pm (noon)
Indie Classics: Sunday at 2pm
Weekly Catch: Sunday Nights at 6pm
Tell Me a Story: Friday and Saturday at 2pm and 6pm
---
Other Ways to Listen
Download this .pls file and open it with VLC.
Enjoy the music, and when you discover your next favorite song, please mention to the artist that you heard it first on CHILLFILTR® Radio.
Cover photo courtesy of Rayan Almuslem.
---
Share this page with the links below.